Metabolic Engineering of Microorganisms Towards the Biomanufacturing of Non-Natural C5 and C6 Chemicals
Biotechnology Program, Department of Engineering Technology, Cullen College of Engineering, University of Houston, Sugar Land, TX 77479, USA
*
Authors to whom correspondence should be addressed.
Received: 22 Sep 2023 Accepted: 24 Oct 2023 Published: 31 Oct 2023
Abstract
Five-carbon (C5) and six-carbon (C6) chemicals are essential components in the manufacturing of a variety of pharmaceuticals, fuels, polymers, and other materials. However, the predominant reliance on chemical synthesis methods and unsustainable feedstock sources has placed significant strain on Earth's finite fossil resources and the environment. To address this challenge and promote sustainability, significant efforts have been undertaken to re-program microorganisms through metabolic engineering and synthetic biology approaches allowing for bio-based manufacturing of these compounds. This review provides a comprehensive overview of the advancements in microbial production of commercially significant non-natural C5 chemicals, including 1-pentanol, 1,5-pentanediol, cadaverine, δ-valerolactam, glutaric acid, glutaconic acid, and 5-hydroxyvaleric acid, as well as C6 chemicals, including
cis
,
cis
-muconic acid, adipic acid, 1,6-hexamethylenediamine, 6-aminocaproic acid, β-methyl-δ-valerolactone, 1-hexanol, ε-caprolactone, 6-hydroxyhexanoic acid, and 1,6-hexanediol.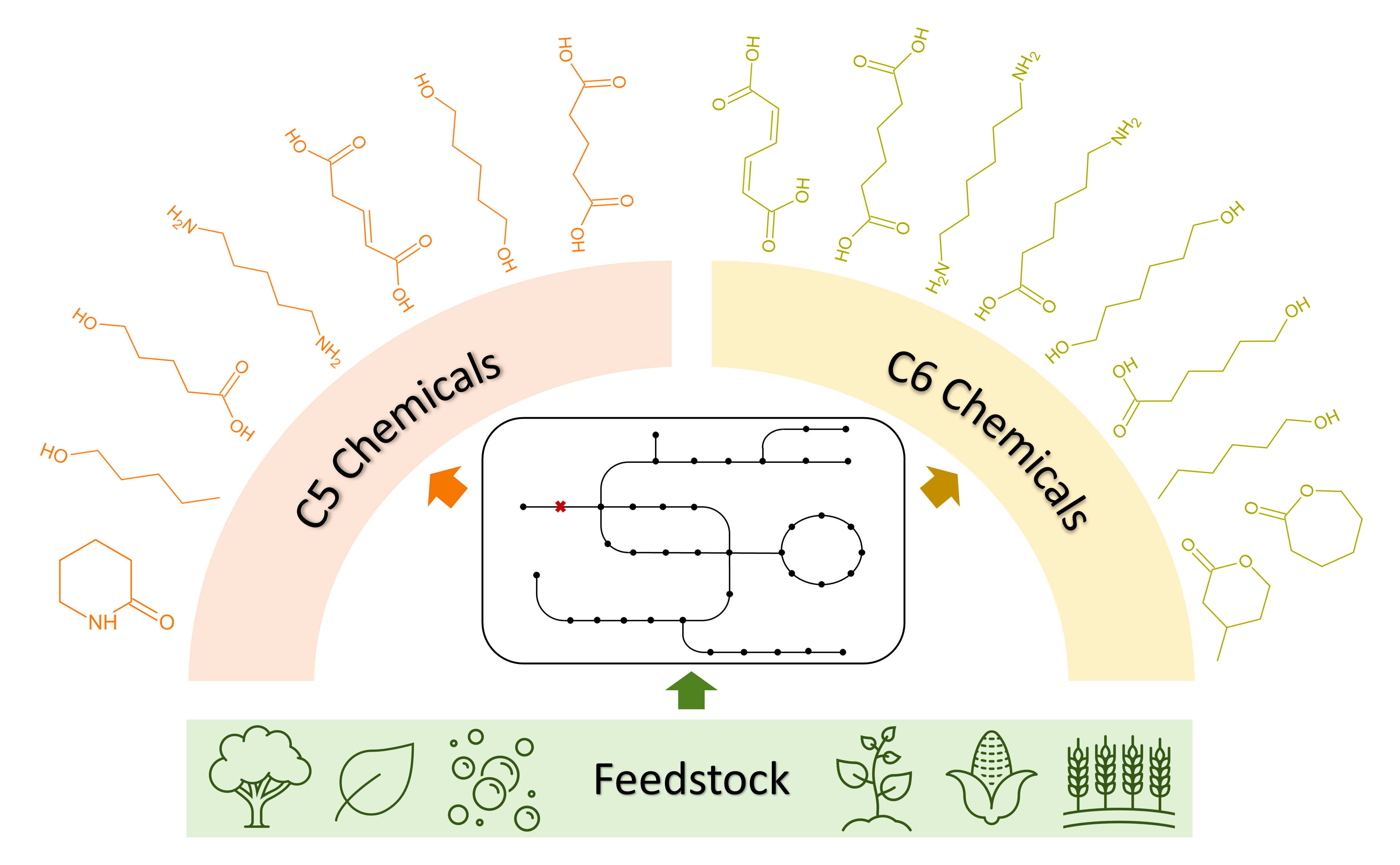 © 2023 by the authors; licensee SCIEPublish, SCISCAN co. Ltd. This article is an open access article distributed under the CC BY license (http://creativecommons.org/licenses/by/4.0/).