Hydroxybenzoic Acid Production Using Metabolically Engineered Corynebacterium glutamicum
Misa Doke
1,
Mayumi Kishida
1,
Yuuki Hirata
1,
Mariko Nakano
1,
Mayo Horita
1,
Daisuke Nonaka
1,
Yutaro Mori
1,
Ryosuke Fujiwara
2,
Akihiko Kondo
2,
3,
Shuhei Noda
3,
4,
Tsutomu Tanaka
1,
*
1
Department of Chemical Science and Engineering, Graduate School of Engineering, Kobe University, 11 Rokkodai, Nada, Kobe 657-8501, Japan
2
RIKEN Center for Sustainable Resource Science, 1722 Suehirocho, Tsurumiku, Yokohama, Kanagawa 230‑0045, Japan
3
Graduate School of Science, Technology, and Innovation, Kobe University, 1-1, Rokkodai, Nada, Kobe 657-8501, Japan
4
Japan Science and Technology Agency (JST), PRESTO 4-1-8, Honcho, Kawaguchi-shi, Saitama 332-0012 Japan
*
Authors to whom correspondence should be addressed.
Received: 30 May 2023 Accepted: 14 Jul 2023 Published: 19 Jul 2023
Abstract
Hydroxybenzoic acids (HBAs), including 4-HBA, 3-HBA, and 2-HBA, are valuable platform chemicals for production of commodity materials and fine chemicals. Herein, we employed metabolic engineering techniques to enhance the production of these HBAs in
Corynebacterium glutamicum
ATCC 13032. Our approach augmented the shikimate pathway and eliminated genes associated with HBA degradation, particularly phenol 2-monooxygenase encoded by
cg2966
. Increased titers of 3-HBA and 4-HBA were achieved via selection of suitable promoters for 3-hydroxybenzoate synthase and chorismate pyruvate lyase. A tac-M1 promoter was suitable for chorismate pyruvate lyase expression and 8.3 g/L of 4-HBA production was achieved. Efficient production of 2-HBA was enabled by maintaining a balanced expression of isochorismate synthase and isochorismate pyruvate lyase. Consequently, strains KSD5-tacM1-H and KSD5-J2-PE exhibited production levels of 19.2 g/L of 3-HBA and 12.9 g/L of 2-HBA, respectively, using 1 L jar fermenter containing 80 g/L of glucose. Therefore, this engineered strain platform holds significant potential for production of other valuable products derived from chorismate.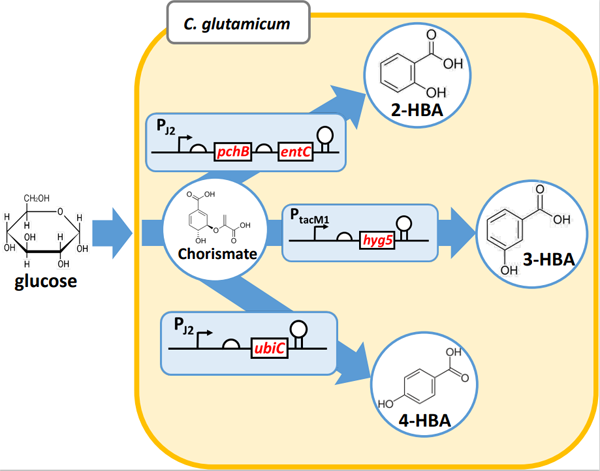 © 2023 by the authors; licensee SCIEPublish, SCISCAN co. Ltd. This article is an open access article distributed under the CC BY license (http://creativecommons.org/licenses/by/4.0/).