Comprehensive Landscape of Matrix Metalloproteinases in the Pathogenesis of Idiopathic Pulmonary Fibrosis
State Key Laboratory of Cell Differentiation and Regulation, Henan International Joint Laboratory of Pulmonary Fibrosis, Henan Center for Outstanding Overseas Scientists of Pulmonary Fibrosis, College of Life Science, Institute of Biomedical Science, Henan Normal University, Xinxiang 453007, China
*
Authors to whom correspondence should be addressed.
Received: 30 Mar 2023 Accepted: 28 Apr 2023 Published: 19 May 2023
Abstract
Idiopathic pulmonary fibrosis (IPF) is a progressive, chronic interstitial lung disease with unknown etiology. Matrix metalloproteinases (MMPs) are involved in fibrotic lung tissues, contributing to the initiation, progression, or resolution of chronic inflammatory disease. In present study, comprehensive changes of MMPs expressions were investigated in IPF by integrative analysis of single-cell transcriptome and bulk transcriptome data. 24 of MMPs were altered and the changes could significantly distinguish IPF from normal subjects and other lung diseases. Among them, MMP1, MMP7 and MMP19 were closely associated to lung functions, susceptibility and alveolar surface density. MMP1 and MMP7 as potential diagnostic indicators, MMP1 and MMP19 as prognostic markers in IPF could accurately predict disease progression. Devolution of MMPs at single-cell resolution, MMP19 was highly expressed in macrophages and markedly interfered with TNF signaling pathway which synchronizes fibrotic microenvironment. MMP19+ macrophages were significantly different from MMP19- macrophages in energy metabolism and immune function. The interaction of MMP19+ macrophages with hyperplastic AT2 was mediated by TNFSF12-TNFRSF12A, and further activated the TNFRSF12A receptor to affect cell glucose metabolism and mitochondrial function. In summary, MMPs has great application potential in the diagnosis, treatment, and prognosis of IPF.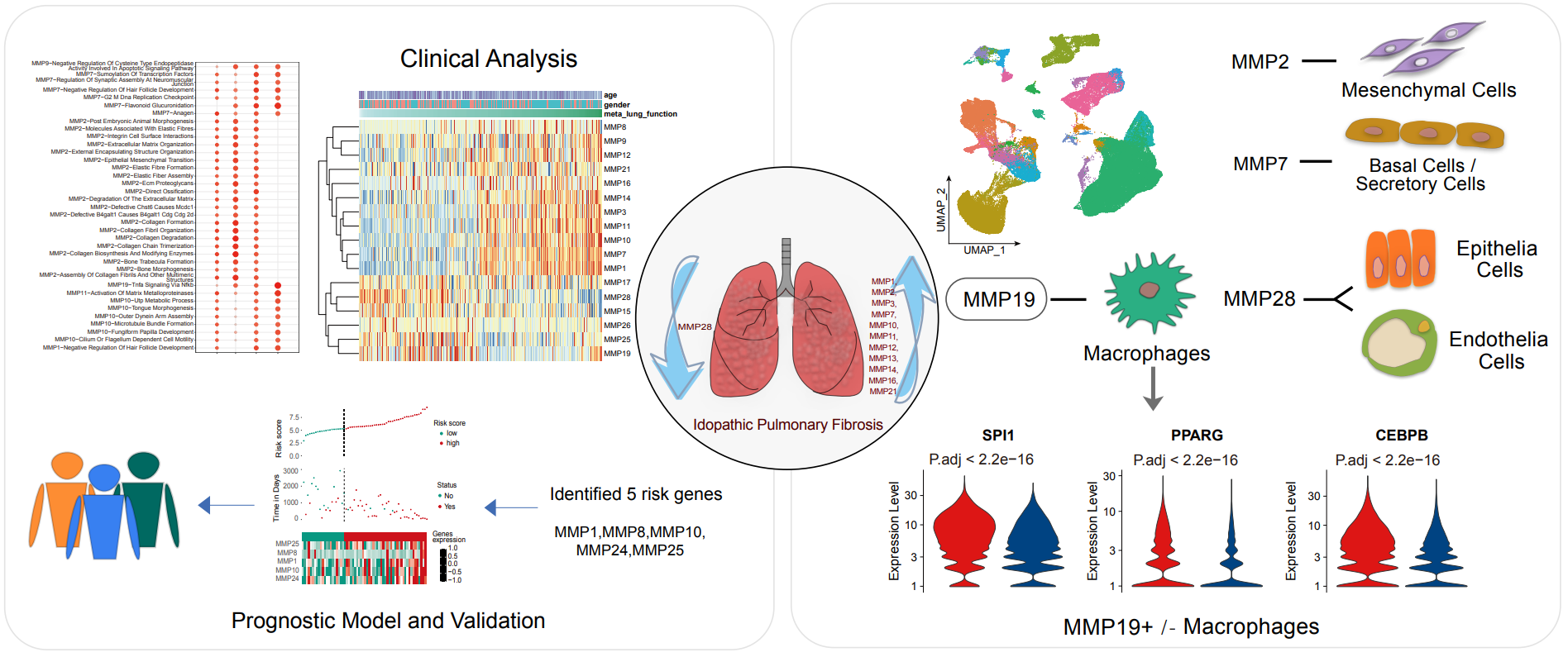 © 2023 by the authors; licensee SCIEPublish, SCISCAN co. Ltd. This article is an open access article distributed under the CC BY license (http://creativecommons.org/licenses/by/4.0/).