Synthesis and Characterization of Cyclic Carbonate End-Functional Linear and Star Polyesters via Ring-Opening Polymerization
1
School of Chemical Sciences, Solapur University, Solapur 413255, India
2
Polymer Research and Technology Department, Shilpa Pharma Life Sciences Ltd. (SPL), Raichur, Karnataka 584134, India
*
Authors to whom correspondence should be addressed.
Received: 10 Jun 2023 Accepted: 28 Aug 2023 Published: 08 Sep 2023
Abstract
Well-defined α-(cyclic carbonate), ω-hydroxyl heterotelechelic poly (D,L-lactide)s (PDLLAs) were prepared with good end-group fidelity by ring-opening polymerization (ROP) of D,L-lactide catalyzed by organo catalyst namely, N,N′ dimethyl amino pyridine (DMAP) in conjunction with a renewable, functional bio-based initiator namely glycerol 1,2-carbonate (GC) in bulk at 135 °C with 82% yield. In the case of GC/DMAP catalyzed polymerizations, the HO-PDLLA-COOH series was not observed in MALDI TOF mass analysis unlike as obtained due to transesterification reactions when catalyzed by GC/Sn(Oct)
2
. Also, cyclic carbonate end-functional 4-arm star poly(ε-caprolactone) (PCL) was prepared via coupling of GC with (PCL-COOH)
4
at room temperature in the presence of N,N′-dicyclohexylcarbodiimide (DCC) and DMAP. Quantitative conversion of hydroxyl functionality in (PCL-OH)
4
to carboxylic acid and then to cyclic carbonate functionality was achieved with 90% yield for low molecular weight 4-arm star PCL confirmed by NMR, FT-IR, and MALDI TOF mass spectroscopy.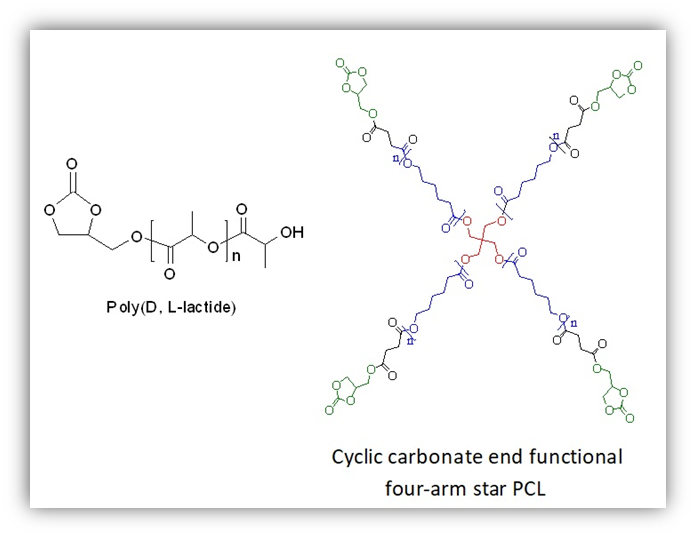 © 2023 by the authors; licensee SCIEPublish, SCISCAN co. Ltd. This article is an open access article distributed under the CC BY license (http://creativecommons.org/licenses/by/4.0/).