Fed-batch Self-regulated Fermentation of Glucose to Co-produce Glycerol and 1,3-propanediol by Recombinant Escherichia coli
School of Bioengineering, Dalian University of Technology, Linggong Road 2#, Dalian 116024, China
†
These authors made equal contributions to the study.
*
Authors to whom correspondence should be addressed.
Received: 31 Mar 2023 Accepted: 16 May 2023 Published: 22 May 2023
Abstract
As important bio-chemicals, glycerol and 1,3-propanediol (1,3-PDO) have been widely used in numerous fields, e.g., polymers, cosmetics, foods, lubricants, medicines, and so on. Bio-based 1,3-PDO is generally produced from glycerol or glucose by natural or recombinant strains, during which organic acids are always co-produced. In this work, acetic acid was also co-produced when 1,3-PDO was obtained from glucose by a recombinant strain of E. coli MG1655. Usually, a base was added to adjust the fermentation pH, resulting in the accumulation of organic salts and difficulty in the next down streaming process. Herein, a novel strategy was developed to consume the produced acetic acid by cells self in fed-batch self-regulated fermentation. The recombinant
E. coli
cells produced 48.33 g/L glycerol and 61.27 g/L 1,3-PDO with a total mass yield of 45.6% and without any other byproducts at the end of 5 fed-batch fermentations. The initial buffer pH, glucose concentration, pulse feeding sugar amount, time for a single batch fermentation and reducing acid were investigated by a series of comparative experiments. This fed-batch self-regulated fermentation has potential for the co-production of 1,3-PDO and glycerol, and will highlight the subsequent modification of recombinant
E. coli
strain by synthetic biology.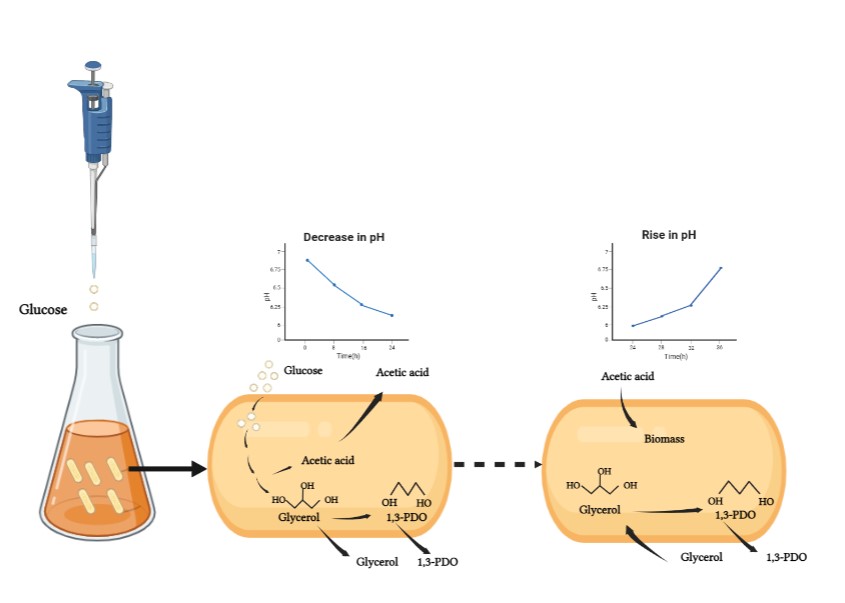 © 2023 by the authors; licensee SCIEPublish, SCISCAN co. Ltd. This article is an open access article distributed under the CC BY license (http://creativecommons.org/licenses/by/4.0/).