Transparent, Hydrolysable and Flame Retarded Bio-based Epoxy Resins via Catalyst-free Polymerization of Triglycidyl Isocyanurate and Aliphatic Diacids
1
Department of Polymer Materials Science Engineering, South China University of Technology, Guangzhou 510640, China
2
Guangdong Provincial Key Laboratory of Luminescence from Molecular Aggregates, South China University of Technology, Guangzhou 510640, China
*
Authors to whom correspondence should be addressed.
Received: 24 Mar 2023 Accepted: 26 May 2023 Published: 01 Jun 2023
Abstract
In this study, transparent and hydrolysable intrinsic flame retarded epoxy resins were synthesized successfully by melting polymerization without any catalyst, simply from bio-based triglycidyl isocyanurate and aliphatic diacids. Due to the possibility of transesterification along with the ring-opening reaction, the most suitable feed ratio of [COOH]/[epoxy] is found to be 60%. By changing the carbon number of diacid from 8 to 12, ER08-60, ER10-60 and ER12-60 were synthesized. The flame retardancy of ER08-60 is found to be excellent, with a UL-94 rating at V-0 and a LOI value at 27.6%. It is revealed from this study that upon heating isocyanurate ring decomposes first and CO
2
released prevents the contact of materials with oxygen, thus preventing further combustion. The tensile strength and bending strength of ER08-60 can reach 86.6 MPa and 75.4 MPa, respectively. Additionally, all epoxy resins are able to hydrolyze quickly in both acid and alkaline solutions. It is worth to mention that these epoxy resins are transparent, with a transmittance of around 85%.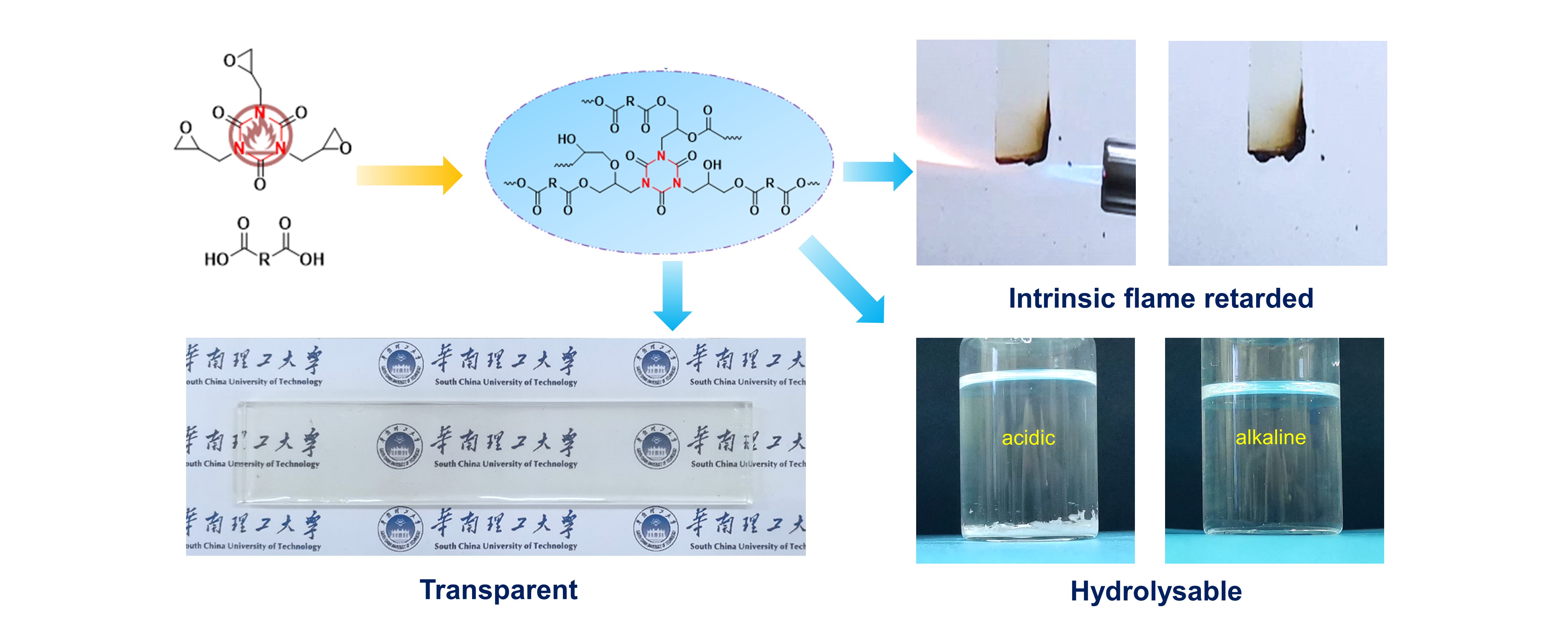 © 2023 by the authors; licensee SCIEPublish, SCISCAN co. Ltd. This article is an open access article distributed under the CC BY license (http://creativecommons.org/licenses/by/4.0/).