Recent Progress in Modification and Preparations of the Promising Biodegradable Plastics: Polylactide and Poly(butylene adipate-co-terephthalate)
1
Research Center of Green Catalysts, College of Chemistry, Zhengzhou University, Zhengzhou 450001, China
2
Institute of Chemistry, Henan Academy of Sciences, Zhengzhou 450000, China
3
The Key Laboratory of Low-carbon Chemistry & Energy Conservation of Guangdong Province/State Key Laboratory of Optoelectronic Materials and Technologies, School of Materials Science and Engineering, Sun Yat-sen University, Guangzhou 510275, China
*
Authors to whom correspondence should be addressed.
Received: 15 Dec 2022 Accepted: 27 Feb 2023 Published: 12 Apr 2023
Abstract
The acquisition of high-performance biodegradable plastics is of great significance in addressing the problem of environmental pollution of plastics. Polylactide (PLA) and poly(butylene adipate-co-terephthalate) (PBAT) are the most promising biodegradable polymers and have excellent functional properties. However, low elongation at break and impact strength of PLA and low tensile modulus and flexural strength of PBAT hinder their application. A large number of studies focus on improving the performance of PLA and PBAT and broadening their applications. In terms of polymer modification, this paper summarized recent progresses in both chemical and physical modification methods for PLA and PBAT, respectively. The properties of PLA can be improved by co-polymerization, grafting, cross-linking and blending. The properties of PBAT can be improved mainly through blending with other degradable polymers, natural macromolecules and inorganic materials. This review can provide the reference and ideas for the modification of biomass-based biodegradable plastics like PLA and fossil-based biodegradable plastics like PBAT.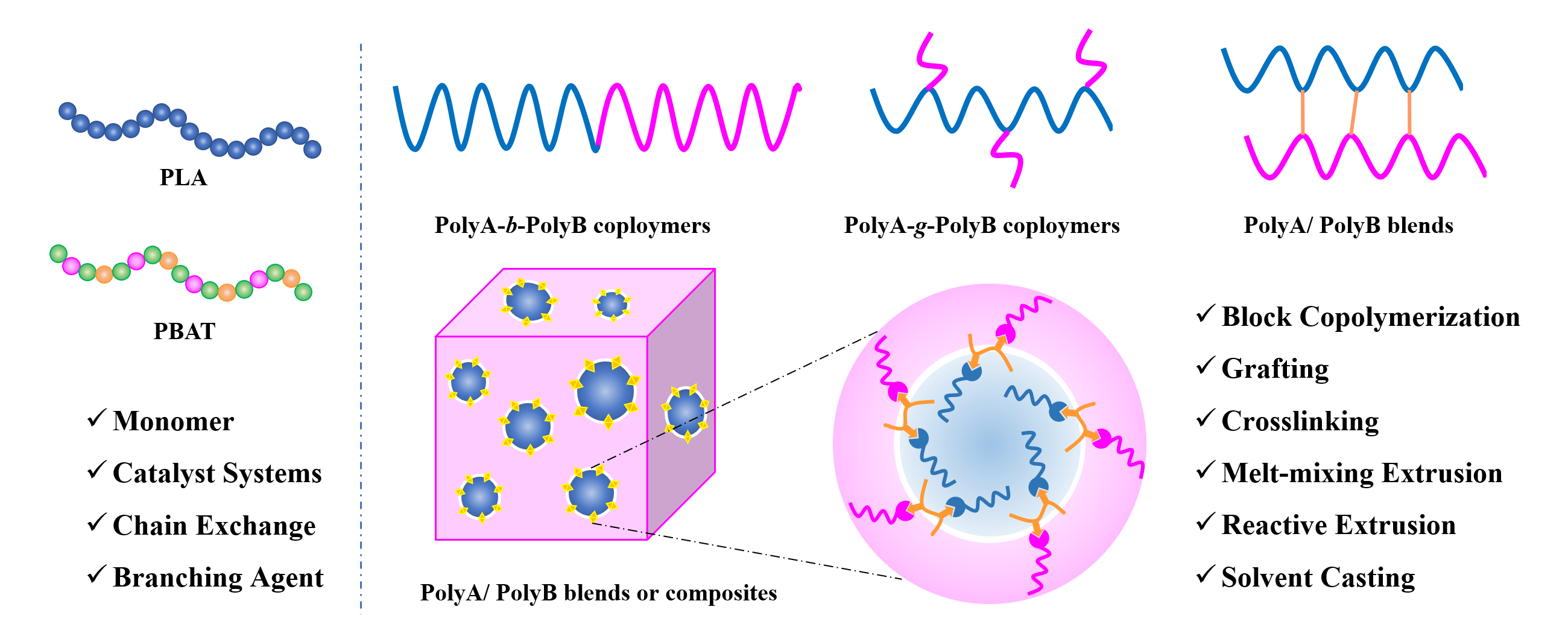 © 2023 by the authors; licensee SCIEPublish, SCISCAN co. Ltd. This article is an open access article distributed under the CC BY license (http://creativecommons.org/licenses/by/4.0/).